Vision:
To contribute in effective global health care by leadership in pharmacy education, advancing research and merging entrepreneurial spirit with compassion.
Mission:
To prepare pharmacists with strong scientific foundation fused with critical thinking, problem solving and leadership skills in community and the profession, leading to enhancement of health and quality of life of the people globally.
Babaria Institute of Pharmacy is one of the leading institute of Gujarat, established in 2005. The institute has been established with a view to promote excellence in Pharmacy education and to prepare upcoming generation to meet the challenges in the area of Pharmaceutical industries, education, research and development by utilizing leading edge Technologies.
Institute of Pharmacy offers B. Pharm and M. Pharm in Pharmaceutics, Pharmacology, Quality Assurance, Industrial Pharmacy, Pharmaceutical Quality Assurance & Pharmaceutical Technology programs.
The institute houses the highly well equipped state-of-the-art laboratories with sophisticated, advanced and dedicated instrument rooms, Animal house and library with computer facility, reprographic facility with unlimited internet access for students and faculty members for research and knowledge upgradation, class rooms with preinstalled LCD Projectors. The institute has kept itself abreast of paradigm shifts that have taken place in recent era of Pharmacy education, and fraternity. The institute aims to provide a simulated atmosphere at the premises to build up and boost up their confidence and competence levels. The institute regularly invites learned and eminent academicians, industrialists and dignitaries to deliver seminars and lectures to create enthusiasm and zeal among students and staff members for educational excellence. Also the institute have a trend to organize industrial visits so as to make the students aware about the working environment of the industry.
SUMMARY OF SPECIAL ACTIVITIES ORGANIZED BY NSS UNIT – BIP (2018-19)
| | | |
| --- | --- | --- |
| ACTIVITY NO. | DATE | ACTIVITY |
| 1 | 23-07-18 | TREE PLANTATION-158 sampling done during this event. |
| 2 | 01-08-18 TO 15-08-18 | SWACHTA PAKHWADA-2018-19-NSS Volunteers along with faculty members and villagers carried out various swacchta activities like cleaning of raods, gram panchayat, PHC etc. |
| 3 | 04-10-18 | BLOOD DONATION -2017-10 Unit of blood donated. |
| 4 | 28-12-18 | DONATION FOR IAB-2018-19- Rs 4500/- donation made by Babaria Institute of Pharmacy. |
| 5 | 28-01-19  TO  03-02-19 | NSS CAMP TO SUNDARPURA-2018-19-NSS volunteer carried out awareness campaign regarding various government schemes. |
| 6 | 26-02-19 | THALASSEMIA TESTING-2018-19- 53 proceeded for the thalassemia testing. |
SUMMARY OF SPECIAL ACTIVITIES ORGANIZED BY NSS UNIT – BIP (2017-18)
| | | |
| --- | --- | --- |
| ACTIVITY NO. | DATE | ACTIVITY |
| 1 | 15-12-17 | BLOOD DONATION -2017-6 Units of blood have been collection |
| 2 | 12-01-18 | SAINIK WELFARE FUND COLLECTION-2018-3,035/- Rs had been collected for fund by NSS Unit -BIP |
| 3 | 07-03-18 | THALASSEMIA TESTING-2018- In total 56 students were undergone the testing out of 57 students (98.24%). |
SUMMARY OF SPECIAL ACTIVITIES ORGANIZED BY NSS UNIT – BIP (2016-17)
| | | |
| --- | --- | --- |
| ACTIVITY NO. | DATE | ACTIVITY |
| 1 | 15-06-16 TO 20-06-16 | YOGA PRACTICE SESSIONS-40+ participants took the benefits of the Yoga Practice sessions. |
| 2 | 21-06-16 | WORLD YOGA DAY CELEBRATION-57 participants took part in World yoga day celebration |
| 3 | 09-08-16 TO 23-08-16 | AZAADI-70 CELEBRATION -50 NSS Volunteers organized SKIT, essay competition and other activities for recalling the freedom fighters. |
| 4 | 06-10-16 TO 12-10-16 | JOY OF GIVING WEEK CELEBRATION NSS Unit-BIP have collected 129 clothes for children, 31 clothes for young men, 59 clothes for young women and 132 stationary articles and 51 toys and distributed to underprivileged people. |
| 5 | 14-10-2016 | INTERNATIONAL WHITE CANE DAY CONTRIBUTION-2016-NSS Unit BIP have collected 3,600/- Rs. which was deposited in IAB A/C. |
| 6 | 14-02-17 | BLOOD DONATION -2017-15 units of blood were donated from the institute. |
| 7 | 21-02-17 | THALASSEMIA TESTING Thalassemia testing of 51 students was carried out. |
| 8 | 22-02-17 | SAINIK WELFARE FUND COLLECTION -Due to the sheer efforts of NSS Volunteers 3,987/- Rs had been collected for Sainik Welfare fund. |
CWDC 2019
1. Awareness programme on association of women's health with menstrual abnormalities by Dr.JignaJigar Shah.
Date: 9th of February.
CWDC 2018
1. Program on the topic "The Power of Positivity" by Mr. Jignesh Gandhi & Ms. Dhruti Karelia.
Date: 20th of October 2018
2. Healing session using vibrational therapy: "Sound Spa/Sound healing" (Singing Bowls Sound Healing) by Ms. Dhruti Karelia and Mr. Jignesh             Gandhi, Yoga and wellness experts.
Date: 27th March 2018
3. Essay writing and painting competition on the eve of International Women's Day, organized by CWDC, Babaria Institute of Pharmacy.
Date: 8th March 2018
4. Nutrition in Young, Adults and Working Women by Dr. Chhavi Gautam, Consultant (Diet and Nutrition, Expert for Education and Food                        Audits).
Date: 30th January 2018
CWDC 2017
1. Expert talk on the topic "Balance Between Work and Professional Life" by Ms. AshuManchanda.
Date: 26th of September, 2017
2. Guest lecture on "Biology Of Cancer-Screening Tests For Women" by Dr. Shehnaz Kantharia, MS. PDCR,Consultant ENT and Head and Neck               Surgeon.
Date: 21st January 2017
CWDC 2016
1. Meditation Programme: "SahajYog Meditation Techniques" by the Sahaj Yoga Team (Rana Sir, Deepak Sir, Rita Madam, Abhilasha Madam, Diya Madam, Nisha Madam and Rajendra Sir)
Date: 24th September 2016
2. Expert talk on "Stress Management in Working Women" by Dr. Rajashree Mashru, Assoc. Professor, Faculty of Pharmacy,The MSU of Baroda
Date: 20th April 2016
CWDC 2015
1. Expert talk on "Pranic Healing and its Benefits" by Ms. Anupama Vaidya, M.Sc, B.Ed, Reiki &Pranic healing Expert.
Date: 16th September 2015
2. Expert talk on " Gynaecological concerns in women and girls of child bearing age", by Dr. Vibhooti Shah, M.B.B.S.
Date: 16th April 2015
A faculty member of Babaria Institute of Pharmacy Dr. Prachi Pandey Completed the PG Diploma in Patents laws from National Academy of Legal Studies and Research (NALSAR University), Hyderabad and bagged 1st rank in India with A++ grades and then qualified the Patent agent exam,2019 conducted by Indian Patent office, govt. of India and got her name registered in the official gazette of India for filing and prosecuting patent applications in India.
A project titled "Novel Carrier Systems For Targeted Drug Delivery In The Treatment of Arthritis" undertaken at BITS edu campus by Dr.Prachi Pandey, a faculty member of Babaria Institute of Pharmacy was shortlisted among top innovations of India in year 2015. She received appreciation award from Dr.Y.S Rajan, distinguished  Scientist-Indian Space Research Organization.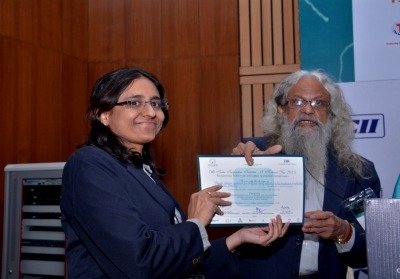 Ms. Ashwini Patel and Dr. Manisha Lalan have received second prize in  paper presentation for research work entitled "Dissolution Enhancement of Nisoldipine using Porous Carrier" at international conference GTU ICON 2019 on 15th March 2019.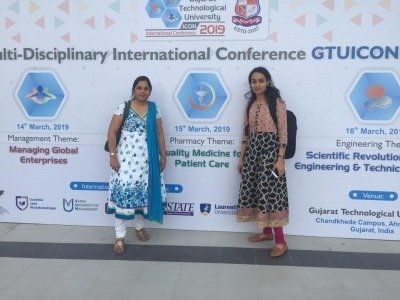 Babaria Institute of Pharmacy, Vadodara received GTU Innovation Council -i2i (Innovate to Impact) Award 2016 on 5th GTU Innovation council Sankul day organized on 14th February, 2016, at Ahmedabad. The Team of Babaria Institute of Pharmacy, Vadodara, Prachi Pandey and Dr. Vandana B. Patel and got the first rank for their contribution in creating Novel carrier systems for targeted drug delivery in the treatment of Arthritis.
Project appreciated and selected as a potential startup for support by a panel of experts and entrepreneurs from different facets such as healthcare, law, finance, marketing etc at World's longest and biggest Sayaji Startup Summit, Vadodara in two consecutive years, 2017 and 2018.