Ms.Chandni Verma Nileshchandra was awarded the Best NSS Volunteer-2015-16 and Mr.Kazi Mohmeed Uwesh Irshaduddin was awarded the Best NSS Volunteer-2016-17 by Shri Jaydrathsinhji Chandrasinhji Parmar(Minister of State, Road & Building, Higher and Technical Education, Govt. of Gujarat)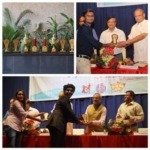 AIDS AWARNESS PROGRAMME THROUGH PUBLIC FAIR NSS Unit of BABARIA INSTITUTE OF PHARMACY (BIP) in association with Indian Pharmaceutical Association (IPA), Vadodara branch had conducted an "AIDS Awareness Programme" on 27th January 2013, Sunday in Bal Mela organized by Nagar Prathmic Shikshan Shamiti, at Sayajibaug, Vadodara. Under the guidance by our beloved principal Dr.S.S.Pancholi Sir the programme was arranged. The stall was arranged and maintained by NSS candidates of institute. AIDS awareness poster competition was arranged at institute level and Ms.Nirali Shah and Mr.Preyas Prajapati declared as winner. Selected posters were displayed which serves as Knowledge packets for visiting people. AIDS Awareness video show was arranged which gives the detailed information in Guajarati language. 500+ people were counseled by our NSS volunteers as well as faculty members present. Refreshment was provided to all NSS volunteers.
WOMEN EMPOWERMENT DAY
All the NSS candidates woke up at 6:00AM. After this they began the day by burning fire wood so as to get warm bathing water. This task was found to be challenging by many of the students as it is an activity seldom performed in the city. After this the students had a sumptuous breakfast. The students then went campaigning door to door to spread awareness about women's rights. This included educating the women folk about their rights and various schemes specially designed for the empowerment of women. During this activity leaflets providing information were also distributed. This was followed by lunch.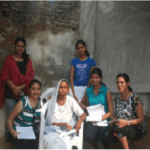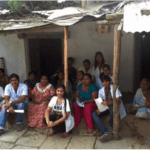 HEALTH AND HYGIENE DAY
NSS Candidates started the morning Door to door activity at 8 am. We covered more than 100 houses where the people were informed on health and hygiene. This activity saw a new approach to spreading awareness where we collected a group of people in an area and collectively counselled them so as to cover as many households as we could in the short span of time we had.
ANTI- ADDICTION DAY
NSS Candidates started morning activity at around 8 am which was a door to door activity. We visited more than 200 houses and counselled the residents on the side effects of Bidi, Tobacco, Alcohol and Cigarette etc. Many people were convinced to quit their addictions. One of the most important steps taken by us was collection of such addictive material from the addicts. One common addiction specially seen in women was chikni which used via the nasal cavity. One villager name Mr. Firoz bhai who is rickshaw driver quit the tobacco chewing and habituated with "kopru-gud" (Bottom left picture).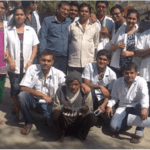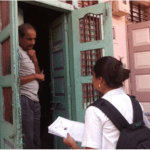 TECHNOLOGY DAY
The day began early in the morning with the burning of fire wood for bathing water. After everyone was ready, a sumptuous breakfast was followed. This was followed by a meeting of the members where the morning door to door activity was explained to them. All queries were addressed as well. This was followed by the morning activity where awareness about computer was spread. The residents of the village were informed about the advantages and uses of a computer. They were also informed about the eMPOWER scheme that the Gujarat government has introduced specially for the youth.
EDUCATION DAY
On Campus Canara bank branch with ATM facility for banking transactions for students and staff members available in the campus.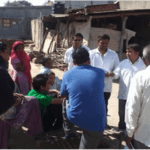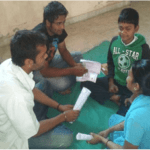 With all excitement, the NSS team started the afternoon session at sharp 2:30 pm at the Ramji Temple. Students from the local school were invited along with their teachers. We got a good response as a large number of students had participated. Mr.Bhautik Patel gave some basic & necessary information regarding further studies with the on-playing slides on the projector which finally proved to be enthusiastic for the students. An hour long individual counselling by NSS team members of the parents & students followed, which successfully proved to be enhancing to the students from their teachers' & parents' point of view.
CLOSING CEREMONY
The last day saw the closing ceremony which was graced by our honourable Chairman madam Mrs. Kamlaben Patel and Principal Dr. S. S. Pancholi. A wonderful speech was given by Mr. R J Gohil , PSI Varnama on this glittering occasion. The PURASKAR was given by Chairman Madam Mrs. Kamlaben Patel and beloved Principal Dr. S. S. Pancholi to Sarpanch Mr. Dineshbhai Patel and other persons of the villages having golden hearts. This was followed by a speech of our Principal Sir and the Camp in-charge Mr. Ashish Soni. NSS Unit-BIP thanks all the villagers for their unconditional help. No matter what our need was, we were always helped by the villagers. No amount of thanks would be able to repay our debt to them.
After the event the candidates had lunch, it was time to bid farewell to the village. The children of the village had gathered and requested us to revisit them soon. The candidates were sad leaving the village. However we were happy as we knew we had made the village a better place through our relentless efforts.
OUTCOMES OF NSS CAMP ORGANIZED BY BIP……
200+ Women's were made aware of their rights.
350+ Families were inspired for regular health check up and hygiene.
64 Addictive Persons quit the addiction forever.
200+ families took an oath for "NO ADDICTION".
150+ School students operated computer for the first time.
150+ School students find a new path for their carrier
25+ scholarly students and their parents were guided by NSS Volunteers regarding their particular carrier development.